Hope In Sight
Hope In Sight is an educational and motivational video for patients with age-related macular degeneration (AMD) and their caretakers. The video was developed in collaboration with the New England Research Institute. The aim of the video is to teach viewers about eye anatomy, the effects of macular degeneration, simple environmental changes that can be made to adapt to the condition, available low-vision aid devices, and how to obtain information about other resources. A technique called cognitive restructuring (Lachman, 1992) is used to change the emotional response to the visual loss to a more positive and constructive approach, using personal stories told by real patients, not actors. The video's impact on the knowledge of AMD, low-vision aids, on self-efficacy, and usage of assistive devices was assessed in a randomized control trial. The video was processed using a contrast amplifying technique shown to improve perception among AMD patients (Peli, 1999).


Hope In Sight can be purchased from:

New England Research Institutes
9 Galen Street, Watertown, MA 02472
(617) 923-7747
email: media@neri.org

The Peli lab has no financial interest in the video.


---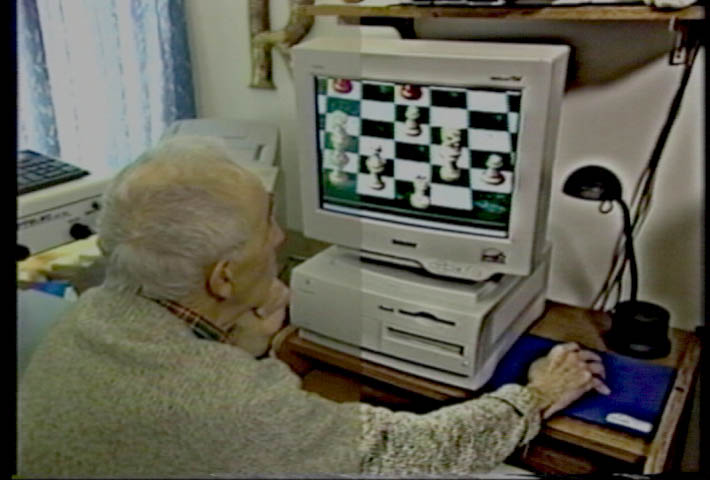 AMD patient Bernie Resnick plays chess against the computer using magnification software in Hope In Sight. The right half of the image is contrast enhanced to illustrate the effect. The video was produced contrast enhanced on both halves.
---

Hope In Sight won a Telly Award (2003) in the Film/Video (Non-commercial) Category.

Grant Support
NIH R43 EY012443 (RG)
NIH R44 EY012443 (ED)
NIH EY05957 (EP)
Collaborators
Robert Goldstein, Ph.D.
Elizabeth Dugan, PhD.
Felicia Lynn Trachtenberg, PhD.
Sharon Tennstedt, PhD.

Partners
New England Research Institute
Publications
Goldstein RB, Dugan E, Trachtenberg F, Peli E. (2007) The impact of a video intervention on the use of low vision assistive devices. Optometry and Vision Science. 84(3): 208-217 [PDF 8.23 MB]
Dugan E, Peli E, Goldstein RB, Gee N, Trachtenberg F (2003) An enhanced video of adults with low vision: Impact on knowledge, attitudes and use of assistive devices. The Gerontologist, Oct 2003; 43(SI 1): 20. Paper presented at the 56th Annual Scientific Meeting of the Gerontological Society of America, San Diego CA, 11/21/03 [PPS 3.3 MB]
Video Clips
Below are some clips from the Hope In Sight video:
Hope In Sight uses individual stories to teach the viewer about living with AMD. In this clip, Bernie Resnick tells his story about living with AMD and demonstrates some low-vision devices, so that the viewer will get a better idea of what is available to them. This clip is presented with enhancement on the right side and no enhancement on the left to illustrate the effect of the enhancement on the visibility of details.
One goal of Hope In Sight is to instruct AMD patients and caretakers how to make environmental changes, in their home, that will improve their ability to function in everyday tasks. This clip is a portion of the "Virtual Home" animation segment of Hope In Sight.
Hope In Sight aims to educate the viewer about the anatomy of the eye and how AMD affects it. This segment was designed assuming essentially no familiarity with the anatomy of the eye. It was also produced with special attention to the low vision of the intended audience by providing highly magnified views and verbal descriptions.
Driving is an important task for independence. In many states, AMD patients may be able to drive with a low-vision aid, but this is often not conveyed to people with AMD. This clip is presented with image enhancement for the whole image, which is the same way the video is produced for viewers.
Another goal of Hope In Sight is to teach caretakers and patients about AMD. This video clip simulates vision with AMD in order to give caretakers an idea of how a patient sees. The simulation was produced using a software program that implements spatially variable resolution (Geisler, 2002, Geisler, 1998). It provides a more accurate rendition than has been available in the past.
References
Peli, E. (1999). Perceived quality of video enhanced for the visually impaired. Vision Science and Its Applications, Optical Society of America, 46-48.

Geisler WS, Perry JS. (2002) Real-time simulation of arbitary visual fields. ACM Symposium on Eye Tracking Research & Applications.

Geisler WS, Perry JS. (1998) A real-time foveated multi-resolution system for low-bandwidth video communications. Rogowitz B, Pappas T, eds. SPIE Proceedings, Human Vision and Electronic Imaging: The International Society for Optical Engineering

Lachman M, Weaver S, Bandura M, Elliot E and Lewkowicz C. (1992) Improving memory and control beliefs through cognitive restructuring and self-generated strategies. Journals of Gerontology 47, 293-299.