Low Vision Reading with Electronic Display

<
---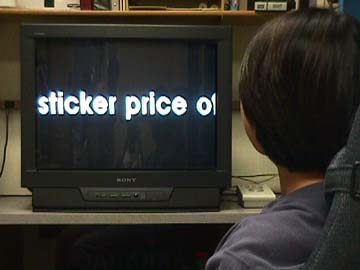 The effects of presentation format of text on electronic magnifiers were evaluated for reading by low-vision patients.
Reading rates for text scrolled from right to left across the screen were compared with text presented in normal page format, text presented in vertical scroll mode, and text presented one word after the other in the same place.
Patient eye movements were recorded to analyze the interactions between the display format and eye movement control. These studies will provide guidelines for developers of new electronic reading aids for the visually impaired.
---
Past Grant Support
NIH, EY10285, "Low Vision Reading with Electronic Display"
DOE/ DE-FG 02-91ER61229 (Robert Webb, PI). Center of Excellence of Lasers in Medicine
Recent Publications

Bowers AR, Woods RL, Peli E. (2004) Preferred retinal locus and reading rate with four dynamic text presentation formats. Optom Vision Sci, 81: 205-213. [PDF 264 KB]
Fine EM, Woods RL, Peli E. (2001) Is there preview benefit when reading scrolling text? In Vision Science and its Applications, OSA Technical Digest, Opt Soc Am, Washington DC: 55-58. [PDF, 18KB]
Li L, Nugent AK, Peli E. (2000) Recognition of jagged (pixelated) letters in the periphery. Visual Impairment Research, 2(3): 143-154. [PDF 213 KB]
Garcia-Perez MA, Peli E. (1999) Imputation of Direction of Motion in one dimension. J Opt Soc Am, 16: 1531-1540. [PDF (350 KB)]
Fine EM, Peli E. (1998) Benefits of rapid serial visual presentation (RSVP) over scrolled text vary with letter size. Optometry and Vision Science 75(5): 191-196. [PDF 3.89 MB]
Peli E, Fine E, Labianca AT. (1998) The detection of moving features on a display: The interaction of direction of motion, orientation, and display rate. Technical Digest of Papers, SID-98, Digest, 1033-1036.
Peli E, GarcÌa-PÈrez MA. (1997) Contrast sensitivity in dyslexia: Deficit or artifact? Optom Vision Sci 74: 986-988.
Fine EM, Peli E, Reeves A. (1997) Simulated cataract does not reduce the benefit of RSVP. Vision Res. 37(18): 2639-47.
Burns CW, Fine EM, Peli E. (1996) Alignment of dynamic text can affect reading rates in patients with central scotoma. Vision '96 International Conference on Low Vision. Book 1. pp. 225-235.[PDF 1.54 MB]
Fine EM, Peli E. (1996) Computer display of dynamic text. Vision '96 International Conference on Low Vision. Book 1. pp. 259-267.[PDF 1.16 MB]
Fine EM, Peli E. (1996) Visually impaired observers require a larger window than normally sighted observers to read from a scroll display. J Am Optom Assoc 67:390-396.
Fine EM, Peli, E. (1996) The role of context in reading with central field loss. Optom Vision Sci. 73: 533-539.
Fine EM, Peli E. (1995) Scrolled and rapid serial visual presentation of texts are read at similar rates by the visually impaired. J Optical Soc Am A 12(10): 2286-2292. [PDF 448 KB]
Fine EM, Peli E, Labianca AT. (1995). Reading of dynamically displayed text by low vision observers. In: Vision Science and its Applications, Vol. 1, 1995 OSA Technical Digest Series (Optical Society of America, Washington, D.C., 1995), pp. 218-221 [PDF 192 KB]
Fine EM, Peli E. (1995) Enhancement of text for the visually impaired. J Optical Soc Am A 12(7):1439-1447. [PDF 448 KB]
Fine EM, Peli E, Labianca AT. (1994). Image enhancement of scrolled text. In: Vision Science and its Applications, 1994 Technical Digest Series, Vol. 2 (Optical Society of America, Washington, D.C., 1994), pp. 254-257 [PDF 209 KB]
Timberlake GT, Peli E, Essock EA, Augliere RA. (1987) Reading with a macular scotoma (II. Retinal locus for scanning text). Invest Ophthalmol Vis Sci 28:1268-1274 [PDF 9.6 MB]
Timberlake GT, Mainster MA, Peli E, Augliere RA, Essock EA, Arend LE. (1986) Reading with a macular scotoma (I. Retinal Location of Scotoma and Fixation Area). Invest Ophthalmol Vis Sci 27:1137-1147 [PDF 2.0 MB]