Retinal Image Processing
---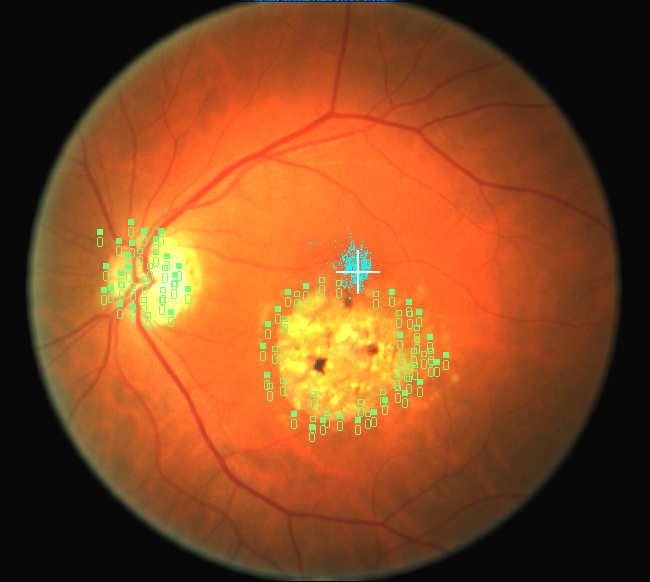 Image processing of retinal images is now a standard clinical practice and a number of commercial products provide these capabilities for doctors. Dr. Peli was an early developer of image processing of retinal images in the early 1980s before the era of personal computers he used a main frame computer to lead some of the earliest research in this field.
Dr. Peli applied image enhancement techniques to improve visualization of the retinal nerve fiber layer and he developed techniques to measure nerve fiber loss form retinal images. Monitoring changes in the nerve fiber layer is important in glaucoma and in other optic nerve diseases and it is now a standard clinical technique.
The earliest sign of macular degeneration are Drusen-yellowish spots appearing on the retina. Dr. Peli developed techniques to automatically detect Drusen in retinal images and by aligning retinal images taken over time he demonstrated that Drusen change over time, they may disappear, and new ones may appear at other places. Such measurement of Drusen changes is now available in some of the new commercial imaging devices used by retinal specialists.
Dr. Peli also developed a number of photographic techniques to improve the quality of the retinal images to facilitate better image processing and has designed and implemented digital image processing techniques to improve the visibility of retinal images through cataracts.
---
Past Grant Support
NIH/ RO1-EY05450 "Computer Processing of Retinal Nerve Fiber Defects"
---
Publications

Hedges TR, Galves RP, Speigleman D, Barbas NR, Peli E, Yardley CJ. (1996) Retinal nerve fiber layer abnormalities in Alzheimer's disease. Acta Ophthalmologica Scandanavia 74: 271-275. [PDF 6.76 MB]
Hedges TR, Legge RH, Peli E, Yardley CJ. (1995) Retinal nerve fiber layer changes and visual field loss in idiopathic intracranial hypertension. Ophthalmology 102(8): 1242-7. [PDF 15.3 MB]
Peli T, Peli E. (1994) Fundus image analysis using mathematical morphology. In: Technical Digest on Vision Science and its Applications, Technical Digest Series; 1994; Washington, DC: Optical Society of America 2: 224-227. [PDF 206 KB]
Peli E. (1993) Enhancement of retinal image: Pros and problems. Neuroscience Biobehavioral Reviews 17: 477-482. [PDF 479 KB]
Sebag M, Peli E, Lahav M. (1991) Image analysis of changes in drusen area. Acta Ophthalmologica 69(1991): 603-610. [PDF 1.5 MB]
Peli E. (1989) Electro-optic fundus imaging. Survey of Opthalmology 34: 113-122 [PDF 15.0 MB]
Peli E, Hedges TR, Schwartz B. (1989) Computer measurement of retinal nerve fiber layer striations. Applied Optics 28(6) 1128-1134 [PDF 1.5 MB]
Peli E, Peli T. (1989) Restoration of retinal images obtained through cataracts. IEEE Transactions on Medical Imaging; 8(4): 401-406. [PDF 8.12MB]
Fariza E, Jalkh AE, Thomas JV, O'Day T, Peli E, Acosta J. (1988) Use of circularly polarized light in fundus and optic disc photography. Archives of Ophthalmology 106: 1001-1004 [PDF 6.0 MB]
Peli E, Hedges TR, McInnes T, Hamlin J, Schwartz B. (1987) Nerve fiber layer photography. Acta Ophthalmologica 65: 71-80 [PDF 12.4 MB]
Peli E, Augliere RA, Timberlake GT. (1987). Fast registration of digital retinal images. In: Noninvasive Assessment of the Visual System Technical Digest, 87-4 (Optical Society of America, Washington, D.C., 1987), 87-4 pp. 61-64 [PDF 222 KB]
Peli E, Schwartz B. (1987) Enhancement of fundus photographs taken through cataracts. Ophthalmology 94(S): 10-13 [PDF 6.7 MB]
Peli E. (1987) Adaptive enhancement based on a visual model. Optical Engineering 26(7): 655-660 [PDF 1.3 MB]
Peli E, Augliere RA, Timberlake GT. (1987) Feature-Based Registration of retinal images. IEEE Transactions On Medical Imaging, Vol. MI-6, No. 3, September 1987 pp.272-278. [PDF 10.2 MB]
Peli E, Lahav M. (1986) Drusen measurement from fundus photographs using computer image analysis. Ophthalmology 93(12): 1575-1580. [PDF 3.9 MB]
Peli E (1986) Computerized enhancement of retinal nerve fiber layer. Acta Opthalmologica 64: 113-122. [PDF 26.3MB]