Model-based image enhancement for the visually impaired
---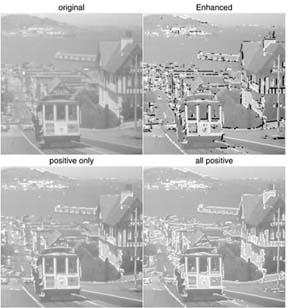 This study is aimed at designing and evaluating practical image-enhancement methods. The first approach is to develop systematic (model-driven) methods for optimal image enhancement for the visually impaired. The second aspect of the investigation is a basic study of the perception of contrast by normal and impaired observers. This study led to the development of a valid metric for contrast in complex images, which is now being used in simulation of image appearance and as a tool for image quality metrics. Current efforts are to investigate changes in form perception in the peripheral retina following adaptation to central field loss. The third aspect of the investigation involves the evaluation of developed enhancement technologies in improving the visibility of details from color motion video. These studies will lead to the development of effective image-enhancement devices for the visually impaired.
Simulation videos are available on the Videos/Simulations page.
---
Investigators
Postdoctoral Fellows
Cheng Qiu, Ph.D.
Past Postdoctoral Fellows
Tian Pu, Ph.D.
Andrew Haun, Ph.D.
Prem N Satgunam, Ph.D.
Past Interns
Rocio Alcalá-Quintana, Ph.D.

Matthew Fullerton, MS

Grant Support
DoD Grant W81XWH-16-1-0033, "Active Confocal Imaging System for Visual Prostheses"
Past Grant Support
NIH Grant RO1EY016093, "Mid-Level Vision Systems for Low Vision (Bioengineering Research Partnership)" (Norberto Grzywacz, PI)
NIH Grant RO1EY01928, "Enhancement of Dynamic Media for Visually-Impaired People" (Peter Bex, PI)
NIH Grant RO1EY01928, "Watching Television and Movies with Low Vision" (Russell Woods, PI)
Grant from Analog Devices, Inc., "Increasing the Quality of Compressed Video through MPEG-Based Contrast Enhancement"
NIH Grant EY05957, "Model-Based Image Enhancement for the Visually Impaired"
Patents
Peli E. (2003) Wide-band image enhancement. US patent No. 6,611,618. [PDF 3.3 MB]
Peli E. (2007) Wide-band image enhancement. US patent No. 7,280,704 (continuation of US patent 6,611,618). [PDF 2.0 MB]
Publications
Vera-Diaz FA, Woods RL, Peli E. (2017) Visual adaptation to central retinal disease. Investigative Ophthalmology and Visual Science. In press, PDF not yet available.

Jung JH, Pu T, Peli E. (2016) Comparing object recognition from binary and bipolar edge features. Proc. of IS&T Human Vision and Electronic Imaging XXI, ed. Bernice E. Rogowitz, Thrasyvoulos N. Pappas, Huib de Ridder. 2016.
doi: 10.2352/ISSN.2470-1173.2016.16HVEI-111 [PDF 602KB]

Jung JH, Aloni D, Yitzhaky Y, Peli E (2015) Active confocal imaging for visual prostheses. Vision Research. [PDF 3.2MB] This paper was selected as the best paper of the year by a trainee at Schepens.

Satgunam P, Woods RL, Bronstad PM, Peli E. (2013) Factors affecting enhanced video quality preferences. IEEE Transactions On Image Processing, 2013; 22(12): 5146 – 5157. DOI:10.1109/TIP.2013.2282120 [PDF 1.26MB]

© 2013 IEEE. Personal use of this material is permitted. However, permission to reprint/republish this material for advertising or promotional purposes or for creating new collective works for resale or redistribution to servers or lists or to reuse any copyrighted component of this work in other works must be obtained from the IEEE.

Haun AM, Woods RL, Peli E. (2012) Electronic magnification and perceived contrast of video. J. of the Society for Information Display, 2012; 20(11); 616-623. DOI: 10.1002/jsid.127 [ PDF 1.0 MB]

Kwon MY, Ramachandra C, Satgunam P, Mel BW, Peli E, Tjan BS. (2012) Contour enhancement benefits older adults with simulated central field loss. Optometry and Vision Science 2012, 89(9), pp 1374-1384 [PDF 3.7 MB ]

Satgunam P, Woods RL, Luo G, Bronstad PM, Reynolds Z, Ramachandra C, Mel BW, Peli E. (2012) Effects of contour enhancement on low-vision preference and visual search. Optometry and Vision Science 2012, 89(9), pp E1364-E1373 [PDF 3.0 MB ]

Luo G, Satgunam P, Peli E. (2012) Visual search performance of patients with vision impairment: effect of JPEG image enhancement. Ophthalmic and Physiological Optics 2012, 32, 421-428. doi:10.1111/j.1475-1313.2012.00908.x [PDF 394KB]

This is an electronic version of an article published in Ophthalmic and Physiological Optics: complete citation information for the final version of the paper, as published in the print edition of Ophthalmic and Physiological Optics, is available on the Blackwell Synergy online delivery service, accessible via the journal's website at http://www.blackwellpublishing.com/OPO or http://www.blackwell-synergy.com.

Woods RL, Satgunam P. (2011) Television, computer and portable display device use by people with central vision impairment. Ophthalmic and Physiological Optics 2011, 31, pp 258-274. doi: 10.1111/j.1475-1313.2011.00833.x [PDF 389KB ]

This is an electronic version of an article published in Ophthalmic and Physiological Optics: complete citation information for the final version of the paper, as published in the print edition of Ophthalmic and Physiological Optics, is available on the Blackwell Synergy online delivery service, accessible via the journal's website at http://www.blackwellpublishing.com/OPO or http://www.blackwell-synergy.com.

Luo G, Peli E. (2011) Development and evaluation of vision rehabilitation devices. 33rd Annual International Conference of the IEEE Engineering in Medicine and Biology Society (EMBC '11), Boston, Massachusetts USA, August 30 - September 3, 2011. pp 5228-5231. [PDF 1.05 MB ]

Li Z, Luo G, Peli E. (2011) Image Enhancement of high digital magnification for patients with central field loss. In: SPIE-IS&T Electronic Imaging, SPIE Vol. 7865 "Human Vision and Electronic Imaging XVI" ed. Bernice E. Rogowitz & Thrasyvoulos N. Pappas. 786516, 2011, doi10.1117/12.872531. [PDF 5.19 MB]

Satgunam P, Woods RL, Bronstad MP, Peli E. (2010) Factors affecting image quality preferences. The SID Int Symposium, Soc Information Display, Seattle, WA 2010. SID 10 Digest 8.2 [PDF 178 KB]

Peli E, Woods, RL. (2009) Image enhancement for impaired vision: the challenge of evaluation. International Journal on Artificial Intelligence Tools 18(3): 415-438 [PDF 2.35 MB]

Fullerton M, Peli E. (2008) Digital enhancement of television signals for people with visual impairments: Evaluation of a consumer product. J. SID (16)3: 493 - 500 [PDF 908 KB]

Goldstein RB, Dugan E, Trachtenberg F, Peli E. (2007) The impact of a video intervention on the use of low vision assistive devices. Optometry and Vision Science. (84)3: 208 - 217 [PDF 823 KB]

Fullerton M, Woods RL, Vera-Diaz FA, Peli E. (2007) Measuring perceived video quality of MPEG enhancement by people with impaired vision. J. Opt. Soc. Am. A 24, B174-B187 [PDF 930 KB]

Fullerton M, Peli E. (2007) People with visual impairment prefer TV viewing using a contrast enhancement consumer product. SID 07 Digest 15.4: 975-978 [PDF 3.2 MB]

Goldstein RB, Woods RL, Peli E. (2007) Where people look when watching movies: Do all viewers look at the same place? Computers in Biology and Medicine. 37(7): 957-964 [PDF 300 KB]

Fullerton M, Peli E. (2006) Post transmission digital video enhancement for people with visual impairments. Journal of the Society for Information Display. 14(1): 15-24 [PDF 2.6 MB]

Luo G, Rensing N, Westgate E, Peli E. (2005) Registration of an on-axis see-through head mounted display and camera display system. Optical Engineering 44 (2), 024002 [PDF 508 KB]
© 2005 SPIE. This paper was published in Optical Engineering and is made available as an electronic reprint (preprint) with permission of SPIE. One print or electronic copy may be made for personal use only. Systematic or multiple reproduction, distribution to multiple locations via electronic or other means, duplication of any material in this paper for a fee or for commercial purposes, or modification of the content of the paper are prohibited.

Peli E. (2005) Recognition performance and perceived quality of video enhanced for the visually impaired. Ophthalmic and Physiological Optics. 25: 543-555 [PDF 522 KB]
This is an electronic version of an article published in Ophthalmic and Physiological Optics: complete citation information for the final version of the paper, as published in the print edition of Ophthalmic and Physiological Optics, is available on the Blackwell Synergy online delivery service, accessible via the journal's website at http://www.blackwellpublishing.com/OPO or http://www.blackwell-synergy.com.

Fullerton M, Peli E. MPEG based Image Enhancement for the visually impaired: Implementation on a general-purpose PC Platform. SID 05 Digest of Technical Papers, 2005. 402-405. [PDF 1.5 MB]

Tang J, Kim JH, Peli E. Image enhancement in the JPEG domain for people with vision impairment. IEEE Transactions on Biomedical Engineering 2004; 51(11): 2013-2023. [PDF 2.6 MB]
© 2004 IEEE. Personal use of this material is permitted. However, permission to reprint/republish this material for advertising or promotional purposes or for creating new collective works for resale or redistribution to servers or lists or to reuse any copyrighted componant of this work in other works must be obtained from the IEEE.

Peli E, Kim J, Yitzhaky Y, Goldstein RB, Woods RL. (2004) Wide-band enhancement of television images for people with visual-impairments. J Opt Soc Am A. 21(6): 937-950
Galley Proof: [PDF 660 KB] small file size
Published Copy: [PDF 6.1 MB] LARGE FILE SIZE

Kim J, Vora A, Peli E. (2004) MPEG based image enhancement for the visually impaired. Opt Eng. 43(6): 1318'1328. [PDF 584 KB]
© 2004 SPIE. This paper was published in Optical Engineering and is made available as an electronic reprint (preprint) with permission of SPIE. One print or electronic copy may be made for personal use only. Systematic or multiple reproduction, distribution to multiple locations via electronic or other means, duplication of any material in this paper for a fee or for commercial purposes, or modification of the content of the paper are prohibited.

Kim J, Peli E. (2003) MPEG based image enhancement for people with low vision. Soc for Information Display, Digest of Technical Papers. 1156-1159. [PDF 868 KB]

Yitzhaky Y, Peli E. (2003) A method for objective edge detection evaluation and detector parameter selection. IEEE Trans on Pattern Analysis and Machine Intelligence. 25: 1027-1033. [PDF 888 KB] [Additional Information PDF 480 KB]
© 2003 IEEE. Personal use of this material is permitted. However, permission to reprint/republish this material for advertising or promotional purposes or for creating new collective works for resale or redistribution to servers or lists or to reuse any copyrighted componant of this work in other works must be obtained from the IEEE.

Tang J, Peli E, Acton S. (2003) Image enhancement using a contrast measure in the compression domain. IEEE Signal Processing Letters, 10(10): 289-292. [PDF 492 KB]
© 2003 IEEE. Personal use of this material is permitted. However, permission to reprint/republish this material for advertising or promotional purposes or for creating new collective works for resale or redistribution to servers or lists or to reuse any copyrighted componant of this work in other works must be obtained from the IEEE.

Tang J, Peli E. (2002) Image enhancement in JPEG domain for low-vision patients. Soc for Information Display, Digest of Technical Papers. 990-993. [PDF 152 KB]

Peli E. (2002) Feature detection algorithm based on a visual system model. Proceedings of the IEEE. 90: 78-93. [PDF 480KB]
© 2001 IEEE. Personal use of this material is permitted. However, permission to reprint/republish this material for advertising or promotional purposes or for creating new collective works for resale or redistribution to servers or lists or to reuse any copyrighted componant of this work in other works must be obtained from the IEEE.


Peli E. (1999) Perceived quality of video enhanced for the visually impaired. Opt Soc of America, Technical Digest on Vision Science and it Applications, 46-48.


Peli E, Fine EM, Labianca AT. (1996) Evaluating visual information provided by audio description. Journal of Visual Impairment and Blindness Sept-Oct 1996 [PDF 728 KB]

Fine EM, Peli E, Brady N. (1996) Evaluating video enhancement for visually impaired viewers. Vision '96 International Conference on Low Vision. Book 1. pp. 85-92.[PDF 1.12 MB]

Peli E, Lee E, Trempe CL, Buzney S (1994) Image enhancement for the visually impaired: the effects of enhancement on face recognition. Journal of the Optical Society of America A 11(7): 1929-1939 [PDF 3.04 MB]

Peli E. (1994) Head-mounted display as a low vision aid. 1994 Virtual Reality Conference Proceedings, California State University Northridge. [HTML 38 KB] or [ External Link]

Fine EM, Peli E, Labianca AT. (1994). Image enhancement of scrolled text. In: Vision Science and its Applications, 1994 Technical Digest Series, Vol. 2 (Optical Society of America, Washington, D.C., 1994), pp. 254-257 [PDF 209 KB]

Peli E. (1992) Limitations of image enhancement for the visually impaired. Optometry and Vision Science 69(1): 15-24 [PDF 13.0 MB]

Peli E, Young GM, Lee ME, Trempe CL. (1992). Effects of distortion due to image enhancement on face recognition. In: Noninvasive Assessment of the Visual System Technical Digest, 1992 (Optical Society of America, Washington, D.C., 1992), Vol.1, pp.18-21 [PDF 214 KB]

Peli E. (1992) Display nonlinearity in digital image processing for visual communications. Optical Engineering 31(11), 2374-2382 [PDF 1.6 MB]
© 1992 SPIE. This paper was published in Optical Engineering and is made available as an electronic reprint (preprint) with permission of SPIE. One print or electronic copy may be made for personal use only. Systematic or multiple reproduction, distribution to multiple locations via electronic or other means, duplication of any material in this paper for a fee or for commercial purposes, or modification of the content of the paper are prohibited.

Peli E. (1992) Perception and interpretation of high-pass filtered images. Optical Engineering 31(1), 74-81. [PDF 1.1 MB]
© 1992 SPIE. This paper was published in Optical Engineering and is made available as an electronic reprint (preprint) with permission of SPIE. One print or electronic copy may be made for personal use only. Systematic or multiple reproduction, distribution to multiple locations via electronic or other means, duplication of any material in this paper for a fee or for commercial purposes, or modification of the content of the paper are prohibited.

Peli E, Goldstein RB, Young GM, Trempe CL, Buzne SM. (1991) Image Enhancement for the Visually Impaired Invest Ophthalmol Vis Sci 32:2337-2350 [PDF 4.8 MB]

Peli E, Goldstein RB, Trempe CL, Arend LE. (1989) Image enhancement improves face recognition. In: Noninvasive Assessment of the Visual System, 1989 Technical Diest Series, Vol. 7, (Optical Society of America, Washington, D.C., 1989), pp. 64-67 [PDF 180 KB]

Peli E, Arend L, Timberlake GT. (1986) Computerized image enhancement for low vision: new technology with new possibilities. J Visual Impairment Blindness 1986; 8: 849-854. [PDF 4.0 MB]

Peli E, Peli T. (1984) Image enhancement for the visually impaired. Opt Eng 23(1):047-051 [PDF 1.67 MB]